Every history text is tainted by those who wrote it. This document is no exception, I (RijilV) may remember or have experienced things differently than others. I tried to keep this as close to what really happened, but in reality no one ever knows that. This is the way things happened in my reality as I remember it.


There really isn't a huge point to all of this, perhaps to make it easier on the law enforcement tracking all of us down. This is just here for me (and you) to remember where Rubicon has been. So with all that said, lets get going.

Rubicon 1999

Brief: Who really knows how it all started. The rumor I hear the most and believe is that DarkCube was in talks with Ron about running an oldschool BBS style party. Ron took it to Jim, and the two of them managed to blow it up into a 3 day Computer event to be held at a hotel. Somewhere down the way they decided to run it over Memorial Day weekend, May 28-30th. This can't explain the complete lack of attendance, but it did contribute. Rubicon 1999 had about 35 people there, total. Although I'm sure right now you could find 36 people who would claim they were there. The badges for this year were simple lamated color paper, and as an interesting tidbit, the image is of one of Jim's brothers underwater....

Bandwidth: ISDN Basic Rate
Badge: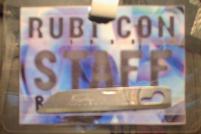 Organizers:

Name: Ron
Age: 18
Location: Plymouth
Name: Jim
Age: 18
Location: Plymouth
Rubicon 2000

Brief: After Rubicon 1999 some serious re-orginzation took place. Brian, NFF, Ben, and RijilV have a meeting without Jim at Defcon 7. Brian, NFF, and RijilV had been volunteers in 1999, and as a result had a good idea what was wrong with the orginization of Rubicon. Not to get into a personal flame here we'll just say everyone disagreed with what Ron wanted to do with Rubicon. Ron left the Rubicon core sometime in the fall of 1999, sitting in the bar area of the hotel from Rubicon 4. After and ugly battle for the domain name, and plently of other terrible events Rubicon 2000 happened on April 28-30th. These dates ended up being very bad for the orginizers as Jim and RijilV had exams the week of Rubicon. Badges for this year were again lamated color paper, nothing very special. It should also be noted this was where Rubicon first took on a Computer Security focus, whereas it started off being just a computer event. This move went largely unnoticed, as this was largely our crowd anyhow.

Bandwidth: ISDN Basic Rate
Badge: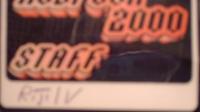 Organizers:



Sorry, no one managed to get a photo of Jim in 2000

Name: Jim
Age: 19
Location: Plymouth



Sorry, no one managed to get a photo of Brian in 2000

Name: Brian
Age: 23
Location: Grand Rapids

Name: Ben
Age: 19
Location: Royal Oak

Name: NFF
Age: 21
Location: Ann Arbor

Name: RijilV
Age: 20
Location: Grand Rapids
Rubicon 3

Brief: Organizationally wise this year wasn't much different. Just working the mechanics of running an event like Rubicon. We picked this ghetto hotel in the heart of Detroit for Rubicon 3. It wasn't such a bad idea. Some organizational problems however, which ended up in a shake up after this year. For some reason EVERYONE loved this hotel, despite the fact the speaker room was way to small. This was the year of the network room and chaos.

Bandwidth: SDSL (1.5Kbps)
Badge:

Organizers:

Name: Jim
Age: 20
Location: Plymouth

Name: Brian
Age: 24
Location: Grand Rapids

Name: Ben
Age: 20
Location: Royal Oak

Name: NFF
Age: 22
Location: Ann Arbor

Name: RijilV
Age: 21
Location: Grand Rapids
Rubicon 4

Brief: Looking at this year, organizationally Rubicon has never worked so well. I think large parts of that have to do with the fact we've been doing this for a number of years now. NFF and Ben left the group, and we brought in Denis to fill in for them. Denis tured out to be a great guy, spamming thousands of people to come and speak at Rubicon. The hotel we picked didn't work out so well but read the reviews about that one.
Bandwidth: Stolen from hotel, didn't work out so well..
Badge: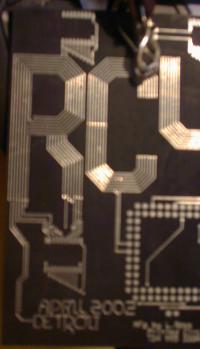 Organizers:

Name: Jim
Age: 21
Location: Plymouth

Name: Brian
Age: 25
Location: Grand Rapids

Name: Rijilv
Age: 22
Location: Grand Rapids

Name: Denis
Age: 22
Location: Howell
Rubicon 5

Brief: Rubicon 5, well the thing keeps on getting better, or I'm just getting more use to the nonsense. Despite the constant threat by the organizers of "this is the last year" it looks like Rubicon 6 might happen, but I'm getting ahead of myself. The con went off without too many problems, nothing compaired to the last year and the hotel was virtually untouched. They're even willing to let us back for a ton of money. No stickers this year which kinda sucked.
Bandwidth: The "free" internet access cost us $500 for the weekend, was shut down a number of times, throttled and various threats were made twards us by the hotel staff. No good.
Badge:

Organizers:

Name: Jim
Age: 22
Location: Plymouth

Name: Brian
Age: 26
Location: Grand Rapids

Name: Rijilv
Age: 23
Location: St. Louis

Name: Denis
Age: 23
Location: Howell